Solution to China State Shipbuilding Chengxi Co., Ltd 1600t crane ship
Publish Date:2012-01-30
Summary
China State Shipbuilding Chengxi Co., Ltd 1600t crane ship is mainly used for marine operation. The main function is hoisting. The hoisting ability of the crane ship is 1600t. The electrical system control mainly involves hoisting, variable amplitude control system, shifting and mooring winch control system. Crane control system uses distribution control method, where CPU of PLC is used to centralized control management and exchange data with remote input/output modules by distributed I/O and communication adapter. Hoisting, variable amplitude, shifting and mooring mechanism drivers all use variable frequency drive system to control the AC induction motor. The AC transmission system not only eliminates the high order harmonic component interference effectively, but also extends the speed range of the motor speed, which makes the motor speed vary from 0 to over rated speed. Precise speed control and reliability raise the production efficiency in the transmission process. Furthermore, energy saving can be also achieved. DTC ensures high control precision when encoder is unavailable.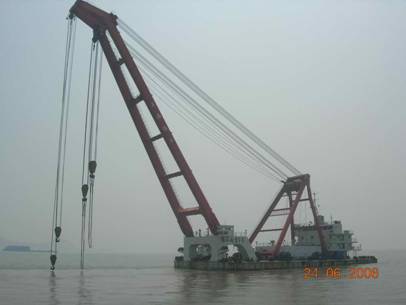 Solution
The crane is powered by on board generator set. The voltage level is 400VAC/3P/50Hz. Main/slave dry type 12 pulse 3 winding rectifier transformers (phase difference of secondary side windings is 30 degree) powered for main hoisting, secondary hoisting, vary amplitude, shifting and winching mechanisms.
The drivers of winch motor use ABB ACS800 series VVVF equipment. The produced energy is released by external power resistor during the mechanism brake or decline. The power resistor is placed outside the power supply room.
The control part uses Siemens S7-400 series PLC to achieve the logic control, safety protection, fault diagnosis and status monitoring etc.
VVVF device communicates with monitoring device by Profibus-DP, which can achieve fast control and monitoring device running status; meanwhile, it reduces the cable laying and makes the operation and maintenance convenient.
Schneider products are used for the low voltage components.
The hoisting mechanism involves weighing device (moment protection), safety protection device, sudden halt protection, TV monitoring system, crane operation platform, shifting winch operation platform and anemometer etc.
VVVF input is installed with passive harmonics filter to reduce the effect of harmonics due to the complete variable frequency drive control