Portal crane of Bohai Shipbuilding Heavy Industry Co., Ltd.
Publish Date:2012-01-30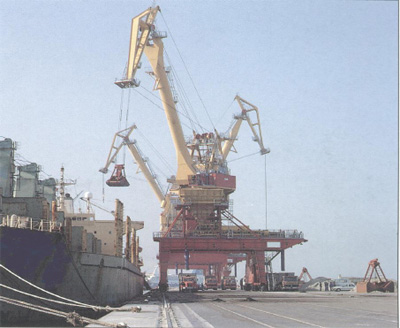 The portal crane is a sort of wide applied hoisting equipment, with various structures, wide range of hoisting weight and large domestic demand. The requirement to the electrical control system of portal crane is different according to the working conditions.
The electrical control system of portal crane developed by HITE uses AC frequency control technics (single-motor-drive and Multi-Motor-Drive), with friendly GUI and high computer applied level. The system is easy to use and maintenance, which is suitable for portal crane with various structures. The system has advantages of low failure rate and short failure repair time, and is suitable for high speed, frequently working and high reliability requirement conditions. The system has complete failure diagnosis, complete fault protection, limitation protection and misoperation protection etc.
The system has been applied successfully to 10t/33m grab portal crane of Qinhuangdao Port Bureau Cargo Company, 120t portal crane of Guangzhou Shipyard International Co., Ltd., 100t portal crane and 32t portal crane of CSIC (Huludao)