Solution to shanghai shipyard 2500t crane ship
Publish Date:2012-01-30
Project background
To meet the requirement to marine salvage operation, the project is generally responsible by Jiangnan Heavy Industry Co., Ltd. and invested by Changhai Shipyard Co., Ltd. the control system is supplied by Shanghai HITE.
Floating crane introduction
The crane ship is 105.6 long and 42m wide, with moulded depth of 8m, designed draft of 5.5m, scantling draft of 5.8m and full load displacement of 23750t. the ship is classified by China Classification Society.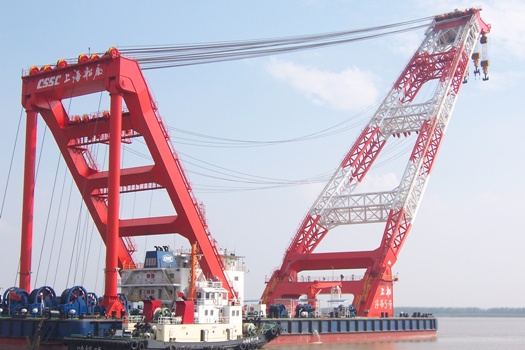 System structure
The system consists of 4 hoisting mechanisms, 2 pitching mechanisms, shifting, positioning and mooring mechanism etc.
Solution
The drivers of the winch motor use SIEMENS 6SE70 series VVVF device. The produced energy is released by external power resistor during the mechanism brake or decline. The power resistor is placed outside the power supply room.
The control part uses SIEMENS S7-400 series PLC with ET200M substation to ensure the logic control, safety protection and combination, fault diagnosis and status monitoring etc.